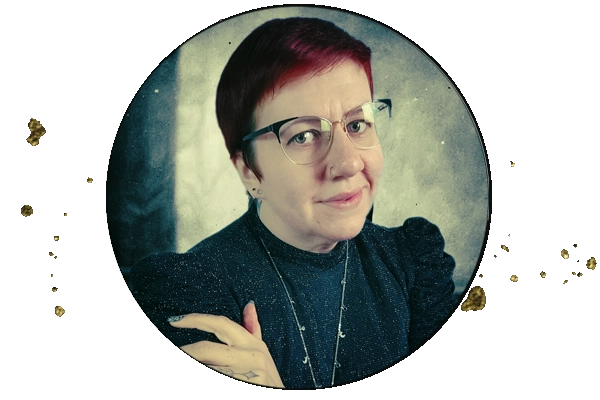 In the North-West Italy, between countryside and lying woods, stands a small haunted mansion. The landlady, Illusorya (previously known as LadyFanhir), lives hidden among dark Emotions and creatures of Oil and Watercolor, and in the most recent form in Digital.
Identifying herself with the most elegant and dreamlike forms of the Dark Grotesque, Stefania Russo is an artist who prefers to represent emotions and imprint in the paper (or in small treasures, created by her hands) what people would hide in their closet, together with the skeletons.
Her love for art and illustration was born in her adolescence at the Professional School of Fashion (IPSIA Bellini), where she discovered the world of minor art, comics and metal music.
Inspired by the great contemporary masters of Fantasy & Gothic, after her studies and work experience as a restorer of antique furniture, she makes the wise decision to abandon everything and immerse herself in the world of art, studying as a self-taught and training hard between sacrifices and psychological torture equal to those of the former Holy Inquisition.

It was from this moment that Illusorya discovered such stronger passion than that of "simple" drawing and learning what books do not teach: exploring the dark side of the human mind.
Her love for the Macabre easily opens firm doors. Everything that came from mental illness, yearning, paradoxical emotions, such as frustration, up to real attitudes and behaviors at the limit of the grotesque of people and everyday life, around her.
A dark world represented in her personal style surreal and full of colors but frank, like a "Dark Fairytale" of modern times.
In her misanthropy, Illusorya creates seductive works in the eyes of the most inexperienced, to the point of striking in the heart of those who valiantly delve into the details of pencils and watercolors.

Her art has been published in several international mag, such as Beautiful Bizarre Magazine, Heavy Music Artwork, Avari Magazine, "Pandaemonioum" and "Enchanted" by Out Of Step Books Publishing.
In 2016 she founded, together with the Swedish artist Sandra Hultsved, the online gallery "Memento Tea Gallery" dedicated to the Dark & ​​Grotesque genre, where national and international painters and sculptors participated in the project. Memento Tea Gallery is currently on hiatus for logistical reasons.

Illusorya works as an indie artist participating in global art projects such as 78 Tarot and Braiiinz! Publishing. Currently, she is a member of the global organization Dark Art Movement, where artists from the industry are promoted.
Coming out of her haunted mansion from time to time, Illusorya exhibits at trade shows and group shows in international galleries, such as Penumbra Gallery (Lisbon, PORTUGAL), La Luz De Jesus Gallery (Los Angeles, USA) and Tangent Gallery (Detroit, USA) .
Obviously, there is no shortage of commissions from brave souls who are preparing to show their true face, without a mask, and imprint forever in a deliciously Dark artwork.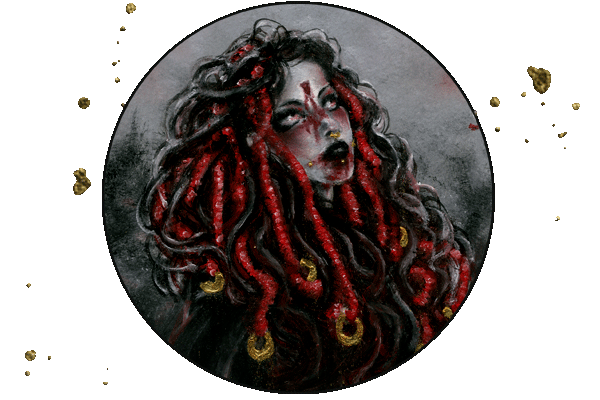 "Stefania Russo is an Italian self-taught fantasy/gothic traditional artist who creates expressive, powerfully sexual work that combines, sorrow, hunger, lust and strength" - The WallBreakers